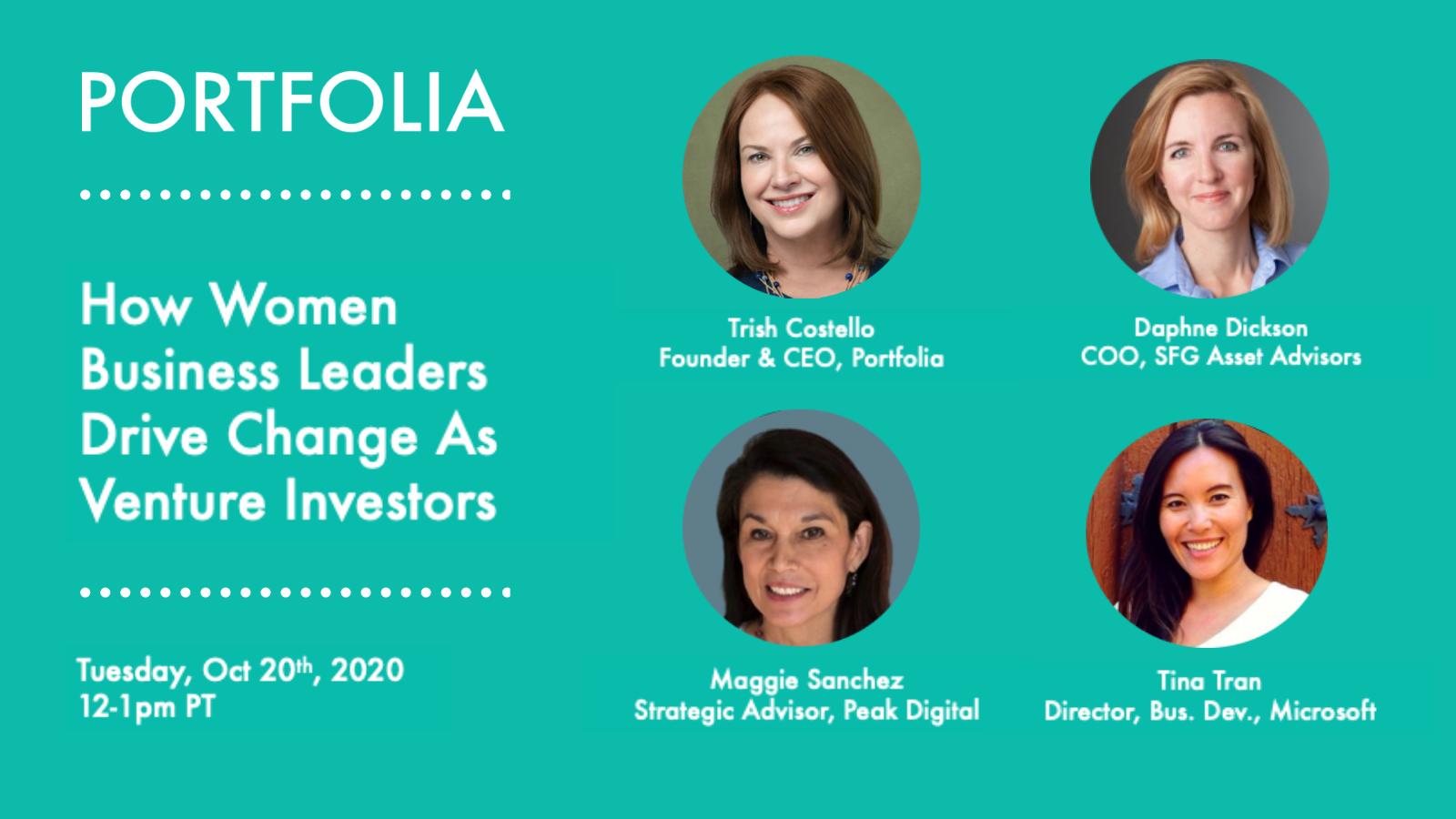 Are you a female leader looking to actively drive the change you want to see in the world?
Join us on October 20th at 12pm PT to learn how a fast-growing community of women business executives are embracing venture investing as a way to drive the innovation and change women want. What kinds of start-ups do women invest in? How does learning to be a venture investor make you a better leader? How does it create change? How can we support promising female and people of color founders -- and pursue great returns while doing so?
Portfolia Founder & CEO Trish Costello will lead a discussion with Daphne Dickson, COO of SFG Asset Advisors, Maggie Sanchez, global business executive and strategic advisor and investor at Peak Digital, and Tina Tran, Director of Business Development at Microsoft. Join us for an insightful and inspirational discussion on how visionary women leaders can use their wealth, savvy and influence to create a better world.
For many women, becoming active financial investors represents the fourth frontier. Learn how accomplished leaders are diving into venture investing as a way to flex their financial power to create a better world.

Investment funds designed for women to invest in the innovative companies they want to see in the world, for returns and impact.
PORTFOLIA INC., MENLO PARK, CA, UNITED STATES
Portfolia does not make investment recommendations, and no communication should be construed as a recommendation for any offer of a security referenced here or otherwise. All investors in Portfolia Funds must be accredited investors. Investing in private placements requires high tolerance for risk and illiquidity, and investors must be able to afford to lose their entire investment.Information about any securities offering should not be considered complete and is qualified by the full offering documents corresponding to the financing. The information contained here or in any correspondence or attachment hereto may include forward-looking statements, estimates, projections and/or representations. To the fullest extent permissible by law, neither Portfolia, Inc. nor its funds; nor any of their managers or non-managing members, employees, representatives, or agents make any representation or warranty, express or implied, as to the accuracy, completeness or definitiveness of this information, and nothing contained herein shall be relied upon as a representation as to past or future performance. We are not a registered broker, dealer, investment advisor, investment manager or funding portal. Portfolia Inc. and Portfolia Managing Member do not give investment advice, provide analysis or recommendations. Please note a fund's past performance is not indicative of future results.